Head of the Group
Prof. Daniel T. Gryko
danieltgryko@gmail.com
Phone: +48 22 3433063
Institute of Organic Chemistry
Polish Academy of Sciences
Kasprzaka 44/52
01-224 Warsaw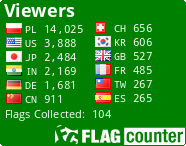 Logo:

Dominika Bednarska
Photo and graphics:

Anita Janiga
Maciej Krzeszewski
Designed by:

Bartłomiej Sadowski
bsadowski@icho.edu.pl
© All rights reserved
Graphics&Design
Prof. Daniel T. Gryko received the Foundation for Polish Science Prize 2017 in the chemical and material sciences for the development of an original method for synthesis and characterization of porphyrinoids!
The research interest of Gryko's group is mainly centered around advanced functional dyes and catalysis. We seek to identify new chromophores and fluorophores with interesting properties. We are mainly interested in the following areas:
---
From the point of view of structural platforms we are focused on but not limited to:
Corroles
Chlorins
Aromatic imides
Linear oligopyrroles
Polyconjugated heterocycles
Pyrroloquinoxalines
Coumarines
---
Here you can find the actual list of our collaborations.
Latest Papers
Recent News
Home